About us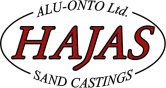 ALUMINIUM SANDCASTING FOUNDRY
TÖKÖL
founded in 1991
During its 30 years' establishment of our family foundry we have always endeavoured to make aluminium sand castings which would reflect the level of current special knowledge and expectation to a preserving extent and hence to an overdeveloped extent.
Our new generation castings have been already used in many fields, namely starting from the power industry through the motor industry and machine industry up to the surgical instruments, thus we could raise our name and activity to the level accepted in the line. In my opinion our approach to the work can be regarded as an active partner's status rather than as a customer-oriented one. 
Owing to all this we are typical object of the requests up to now for which the innovation is of high priority.
Hajas Gergely